Debi Grupe
"A language; a language unspoken. Unspoken yet understood. Understood by experience! The experience of emotion. Emotions know. Know what? What does it matter? "Aha!" you say. I say, "Aha!" too, over and over and ......when does it end? It doesn't. So be it. Be it. Be."
Original ArtWork Available in Palm Springs, Cathedral City, Rancho Mirage, CA
"CRUSHING INERTIA" INSTALLATION
Over the past few years, we have witnessed a growing discord, not only in our country, but in the rest of the world as well.  In June, 2018 when Debi Grupe and Linda Maxson saw the first images of children being put in cages at the Mexican border, it had such an impact that it affected what they saw in an art piece that Debi was creating.  The piece involved colorful stickpins being painted black.  The transformation of those small pins inspired them to create a piece to represent the struggle between human freedom and forces that would suppress it.
"This collaboration started very organically. It was the heaviness of the situation and powerlessness that I felt when I saw the images back in June.  I expressed this to Linda and from there, the seed was planted."  - Debi Grupe
 "Our collaboration began with energetic discussions regarding what we see as opposing forces in the world. I wanted to affirm — through color, symbols and movement —the restorative power of creativity."  - Linda Maxson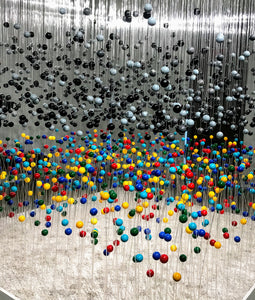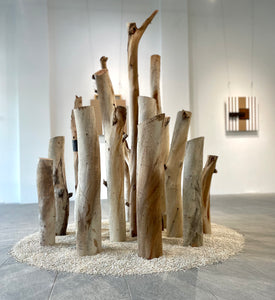 There's A Story Here
It all started with a felled tree...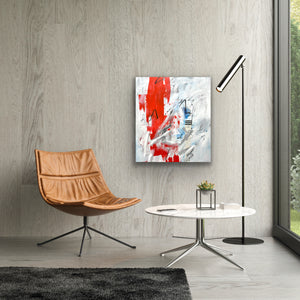 Imagine Grupe Art on YOUR Wall
If you are uncertain what a piece of art will look like on YOUR wall, we can show you. Then you can buy with confidence.
Here's what you do:
1. Take a picture of your wall
2. Pick your piece of GrupeART
3. Text us at 707.260.4710 and we'll send you back a picture of your new art on your wall.
4. Easy-peasy.
GrupeART Gallery
Perez Art District
68845 Perez Rd, H30,
Cathedral City, CA 92234
Thursday, 10am - 4pm
Friday, 11am - 4pm
Saturday, 11am - 4pm
Sunday, 11am - 4 pm